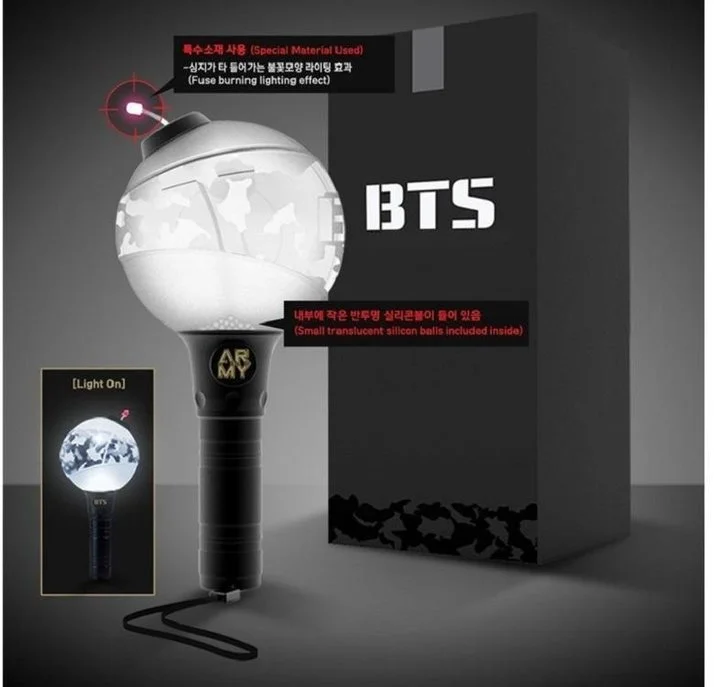 BTS Lightstick Army Bomb
The official Map of the Soul Special Edition, This version was released on April 14, 2020, and it has an official app to switch the light stick to the concert and manual mode using Bluetooth.
The official BTS light stick (version. 3) was first introduced on July 5, 2018, while its official release date worldwide was on July 27, 2018.
The BTS lightstick can be controlled by a central hub via Bluetooth connection to initiate special light effects and color changes or through a special dedicated app that's available on Google Play for Android smartphones and App Store for iPhones.
Features:
Light Mode: Keep/Slow/Quick/Flash/Dimming.
Noted: Bluetooth Version. Through the mobile APP software, you can adjust the light color of the concert Lightstick.
Package Included:
1 * Concert Lamp stick
It looks identical to the previous version except for the logos of BTS and A.R.M.Y are now white.
The official BTS Lightstick is designed, manufactured, and distributed by Compact.D, a company based out of South Korea. The Army Bomb is officially licensed by Big Hit Entertainment.
This nifty BTS Lightstick can work for 5 hours straight and requires 3 AAA batteries. It works in five modes: dimming, slow, keep, quick, and flash. Interestingly, it can radiate any color of light from the whole spectrum. Be sure to replace the batteries if the brightness of the light appears dim after some time or the lightstick glows in red only.
The switch is in the off position in the middle position, the light is pushed up to the white light mode, and the light is pushed down to enter the blue light mode.

Mode: 1. The switch is pushed up in white light mode, white light has the following 4 states
1. Slow flash
2. Quick flash
3. Super flash
4. Breathing
2. When using the APP to connect to the light stick, it is in the color light control state (connected to the Bluetooth state)
New users can pair the BTS light stick with their seats at any BTS concert through the dedicated Bluetooth app or using a special booth onsite at the concert. Simply switch the Army bomb to "Bluetooth mode" with the "power on" switch and fill in the concert location and the exact seat number through the app for this to work seamlessly.
The dimensions of this BTS Lightstick or ARMY Bomb are 98 x 98 x 224 making it more compact and handy than the earlier versions. This nightstick is composed of compact ABS, PC, and silicon and weighs approximately 150g.
In the package, you will find – besides the light stick – a non-woven bag, user manual, and BTS photo cards for first-time users.