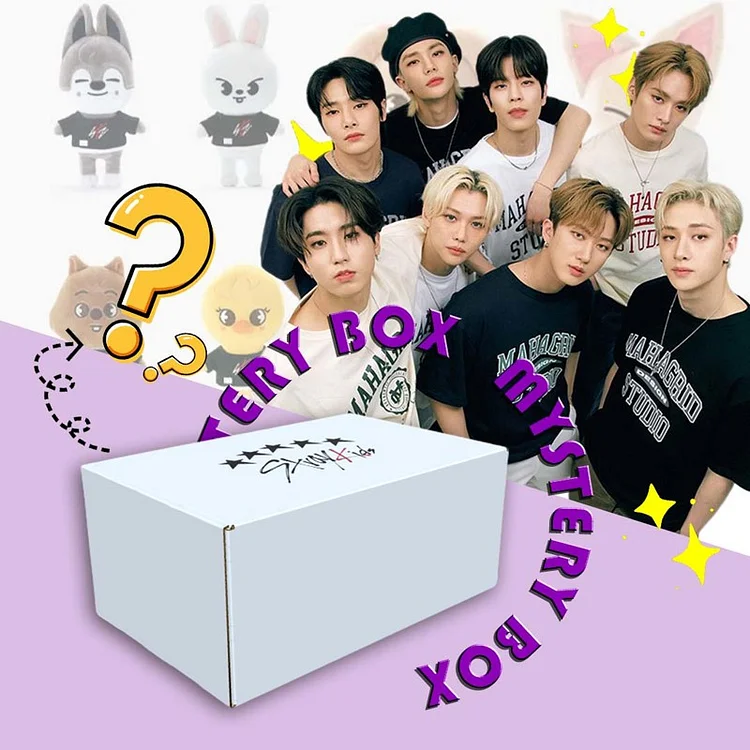 🖤Stray Kids Mystery Gift BOX
🖤The box contains 3-5 random items, T-shirt, Hoodie, and Sweatshirt is one of them.
🖤T-shirt or Hoodie include: World Tour Items, SKZOO, 5-Star, MAXIDENT, MANIAC, ODDINARY, NOEASY, GO LIVE, THE SOUND, and more
🖤Random Items include: Members personally design jewelry or beanie, SKZOO character dolls, bucket hats, baseball caps, water glasses, earrings, necklaces, keychains, socks, photo cards, stickers, posters, pillows, bracelets, etc.
🖤This Mystery Gift BOX offers incredible value for money. You get a variety of items that are sure to delight any Stray Kids fan, making it the perfect gift for yourself or a loved one.
🖤You never know what you'll find inside. Each item is carefully chosen to ensure you get the best products possible.
🖤In summary, the Stray Kids Mystery Gift BOX is a must-have for all fans of this incredible K-pop group. With its random shipping, high probability of getting the latest products, and unbeatable value for money, there's no reason not to get one today! Don't miss out on the chance to add some mystery and excitement to your life. Order yours now and see what surprises await you!
🖤Box Style only looks different, the contents of the box are the same
🖤Since the Mystery Gift BOX is a special item, the product in the box is random and does not accept designation, and returns will not be accepted unless there are special reasons.
Tee - Unisex
| Size | Length | Chest |
| --- | --- | --- |
| S | 71cm | 46cm |
| M | 74cm | 51cm |
| L | 76cm | 56cm |
| XL | 79cm | 61cm |
| 2XL | 81cm | 66cm |
| 3XL | 84cm | 71cm |
| 4XL | 86cm | 76cm |
| 5XL | 89cm | 81cm |
Hoodie - Unisex
| Size | Length | Chest | Sleeve |
| --- | --- | --- | --- |
| S | 67cm | 51cm | 88cm |
| M | 71cm | 56cm | 90cm |
| L | 74cm | 61cm | 93cm |
| XL | 76cm | 66cm | 95cm |
| 2XL | 78cm | 71cm | 98cm |
| 3XL | 82cm | 76cm | 99cm |
| 4XL | 84cm | 82cm | 100cm |
| 5XL | 86cm | 86cm | 102cm |